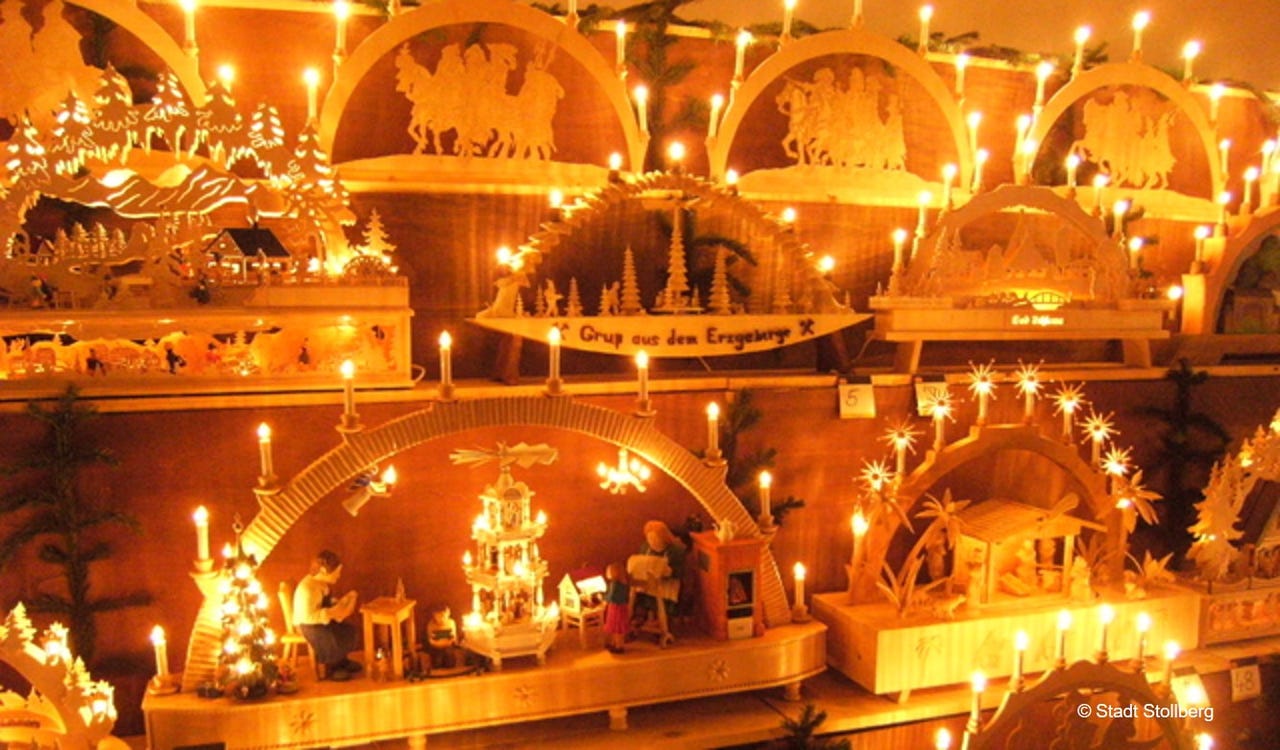 Saxon Christmas feeling for your home
Recreate the Saxon Christmas spirit at home with handmade products from local makers and producers, including wooden decorations from the Ore Mountains, Moravian Stars, incense cones, the original Stollen from Dresden or exquisite Meissen porcelain items. Get ready to browse!
Dresden Stollen, fresh from the oven.
The typical "Smoking Men" from the Ore Mountains in different attire.
Typical Saxon light arch, called "Schwibbogen". During Advent and Christmas time you find them in many windows in Saxony.
Meissen porcelain coffee set.
Wooden pyramid from the Ore Mountains.
"Herrnhuter Stern" or "Moravian Star". They come in different sizes and colours.
Dresden Stollen - ready to be eaten!
Show workshop of "Herrnhuter".
Coffe cups made from Meissen porcelain.
Wooden decoration from the Ore Mountains
Herrnhuter Sterne (Moravian Stars)
Handmade since the 19th century, the so-called Moravian Stars – known as Herrnhuter Sterne in German – originated in Saxony within the Moravian Church community as a unique Christmas decoration. The special shape of this illuminated star is even patented and during the festive season, they can be found in many homes around the world. Get yours here.
From tableware to art and decorative items – porcelain from Meissen is not only one of Germany's most prestigious trademarks, it is simply beautiful. European porcelain making started in this Saxon town in 1710 and the product selection today includes anything from vases to (yes!) wall paintings. Find your favourite here.
HUSS incense cones and smoking ovens
The scent of Christmas: Since the 1920ies, the Huss family business has produced their unique incense cones and matching metal ovens to burn them in the Ore Mountains. For lovers of fine fragrances and charming decorative pieces, this is the real deal – 100% craftmanship guaranteed! Have a look here.
Stollen is more than just a cake. It is a piece of cultural history and the recipe for the original Dresdner Christstollen has been passed down among local bakers from generation to generation. Christmas without Stollen? For many unthinkable. If you are one of them, why not get the "real thing" from Dresden and enjoy the festive taste of Saxony at home. Order here.