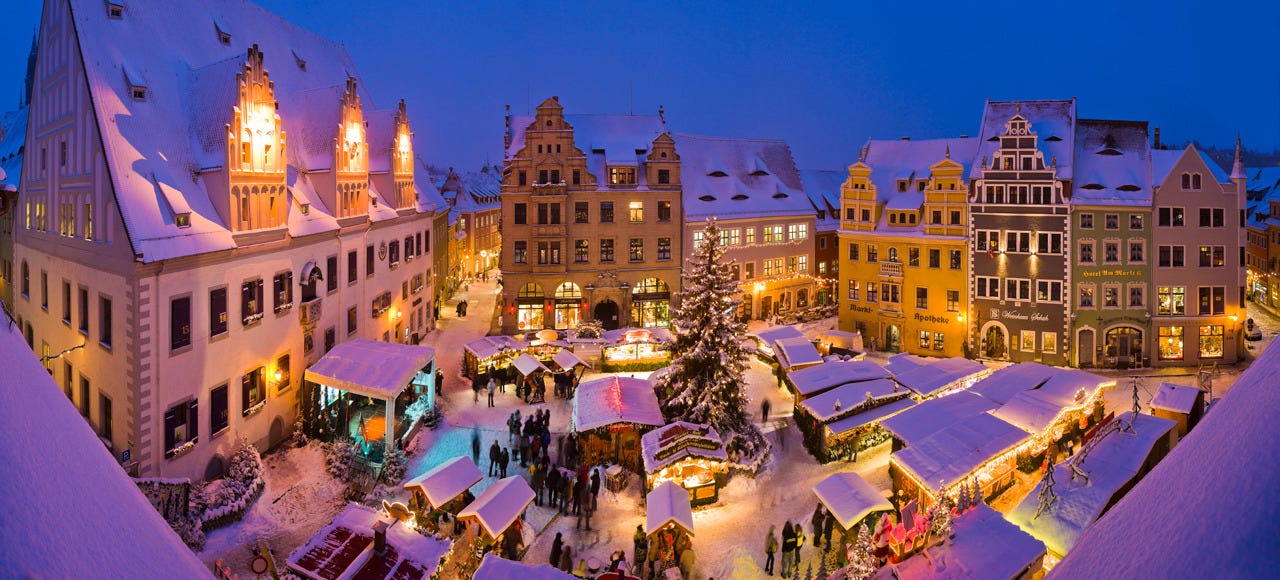 Christmas all year round
For unique Christmas traditions and a festive spirit like no other, look no further than Saxony, be it
charming Christmas markets, one-of-a-kind decorations and festive traditions or special food. This year more than ever, we'd love you to join in as Christmas 2021 will, no doubt, will again be different due to the pandemic. We are not able to, for example, experience the Saxon Christmas markets in real life but we can still dive into the unique spirit of the season.
Enjoy the Saxon Advent Calendar
Advent calendars have been a cherished German tradition since the 19th century. Children usually prefer them filled with chocolate, but they come with all kinds of fillings these days. Acting as a kind of countdown to Christmas Eve, they cover December 1 to 24. Every day a new door is opened. What's behind it, remains a secret until then. Our video advent calendar is also a treat, revealing one story from Saxony every day. Enjoy!
Magical Christmas moments in Saxony
Mulled wine, magical lights and festive music: Saxony's Christmas markets ooze flair and every one of them has their own unique character. Dresden's Striezelmarkt is Germany's oldest Christmas market while small historic towns such as Meissen or the beautiful Wackerbarth Winery near Dresden provide the perfect backdrop for enchanting moments. Apart from that, we can also hear Christmas carols and smell delicious treats … take a look & enjoy some impressions!
Youtube content can't be displayed with your current cookie settings. Select "Show Content", to view content and agree to the Youtube cookie settings. Get more info in the Youtube Privacy Policy. Opt-out here at any timecookie setting.
Show Content
Germany's oldest Christmas market? Tick. The world-famous Dresdner Christstollen cake? Absolutely. Christmas carols in churches? Well, of course! See this YouTube video for your ultimate Saxony Christmas round-up.
Youtube content can't be displayed with your current cookie settings. Select "Show Content", to view content and agree to the Youtube cookie settings. Get more info in the Youtube Privacy Policy. Opt-out here at any timecookie setting.
Show Content
"The Lighting of 1.000 candles": The season in the cradle of Saxon Christmas - the Ore Mountains - is unthinkable without the customs and traditions of the miners. This touching YouTube video shows you how centuries-old traditions are maintained in a lively and authentic manner.
Youtube content can't be displayed with your current cookie settings. Select "Show Content", to view content and agree to the Youtube cookie settings. Get more info in the Youtube Privacy Policy. Opt-out here at any timecookie setting.
Show Content
Mulled wine, magical lights and festive music: Saxony's Christmas market in big cities such as Dresden or small historic towns like Meissen enchant visitors from around the world. See why in this YouTube video.
All about festive handicrafts and traditions
In Saxony, traditional handicrafts are kept alive, including wooden Christmas decorations skilfully made by artisans in the region's Ore Mountains. From wooden pyramids to charming hand-painted angel figurines or Moravian Stars from the Upper Lusatia region, Christmas decoration the Saxon way adds a special touch of festive spirit to everyone's home. Explore this and more unique traditions here!
Youtube content can't be displayed with your current cookie settings. Select "Show Content", to view content and agree to the Youtube cookie settings. Get more info in the Youtube Privacy Policy. Opt-out here at any timecookie setting.
Show Content
Discover worldwide unique arts and crafts from Saxony in this YouTube video: See how the famous Moravian Christmas Stars and delicate wooden art and festive decorations are hand-crafted by skilful experts.
The Ore Mountains are home to a unique tradition of handmade wooden art, especially for Christmas decorations. This video on vimeo takes a peek into the workshops of "Wendt & Kühn", one of the oldest and most famous producers which is especially famous for their angels with green wings, always carying 11 white dots.
Youtube content can't be displayed with your current cookie settings. Select "Show Content", to view content and agree to the Youtube cookie settings. Get more info in the Youtube Privacy Policy. Opt-out here at any timecookie setting.
Show Content
Some of Saxony's most fascinating Christmas traditions go back to the region's centuries-old history of mining in the Ore Mountains, including special miners' parades and a festive dish called "Neinerlaa". Curious? It's all here in this YouTube video!
Where festive foodies dreams come true
Come the festive season and Saxony dishes out some of its best food. The most famous one, no doubt, is the Stollen Christmas cake, which originated in the region and is, to this day, prepared according to a special recipe. But there's more, including a special kind of gingerbread or a traditional festive Christmas menu prepared in the Ore Mountains. What can we say – enjoy!
From the famous Stollen cake, which originated here, to gingerbread or the very special "Neinerlaa" Christmas meal, at home in the Ore Mountains – enjoy some seasonal delights in this YouTube video!
You might, by now, be able to buy it all around but to get the real taste of the "Christstollen" Christmas cake, there's only one place: Stollen was invented in Saxony and to this day, only in Dresden and the surrounding region are bakers allowed to bake the authentic "Dresdner Christstollen" according to a secret recipe. Read all about it here and watch how it's done in this YouTube video. For some recipes to try at home, look here.
Read on and bring the true Saxon Christmas feeling to your home:
Recreate the Saxon Christmas spirit at home with handmade products from local makers and producers, including wooden decorations from the Ore Mountains, Moravian Stars, incense cones, the original Stollen from Dresden or exquisite Meissen porcelain items. More info and online shops.
Ready to give it a go yourself? We have curated recipes and information on some delicious Christmas delicacies, including some very easy to make Christmas biscuits and mulled wine. Give it a try and let us know how it goes!