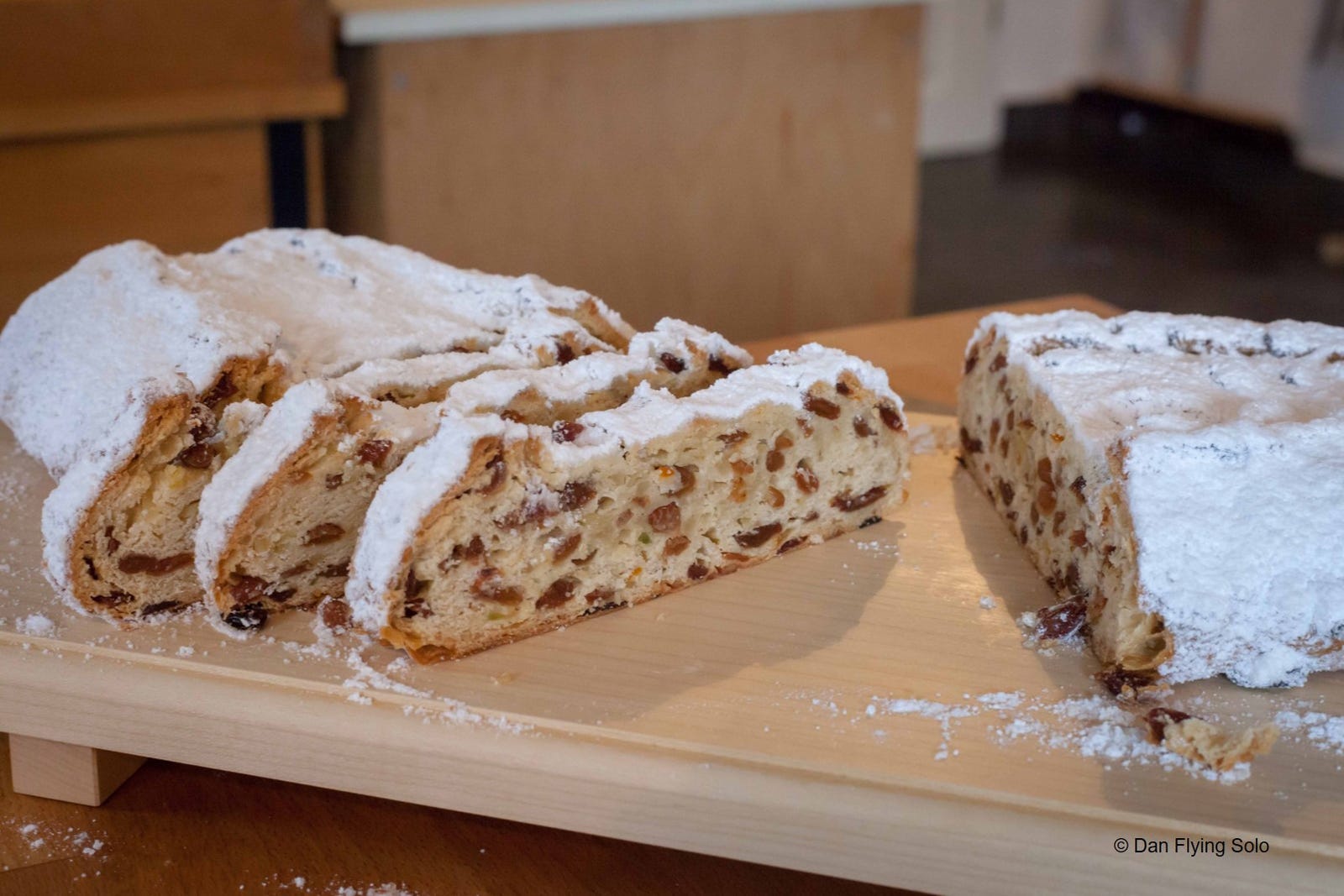 Christmas recipes
For tickling those Christmas taste buds... Be it simple yet delicious biscuits, aromatic mulled wine or original Dresden Stollen (for those who love a challenge in the kitchen); we have gathered some seasonal recipes and recommend giving it a try at home.
250 g butter
100 g icing sugar
2 tea spoons of vanilla sugar
250 g flour
100 g custard powder

Thoroughly mix the softened butter, icing sugar and vanilla sugar. Gradually stir in the sifted flour and the custard powder.
Form small balls from the dough. Place them on a baking tray covered with baking paper and press flat with a fork to form a pattern on the surface. Alternatively, press a hollow in the middle with the handle of a wooden spoon and fill with jam or melted chocolate.
Bake at 180 to 200 °C top/bottom heat for about 8 to 12 minutes. The colour of the biscuits should remain light. After baking, very carefully remove them from the tray and let them cool on a cake rack.


3 whites of egg
250 g powdered sugar
400 g ground almonds
2 teaspoons of cinnamon

Beat egg whites very stiff. Stir in powdered sugar, beating continuously. Remove about 6 tablespoons of the sugar-egg mixture for brushing later and set aside, cool. Stir cinnamon and almonds into the rest of the mixture and cool for approx. 30 minutes.
Roll out the dough (in portions) between cling film about 1 cm thick. Cut out stars with baking molds and place on baking sheets lined with baking paper. Brush top carefully with the cooled sugar-egg mixture.
Bake the first tray for approx. 15-20 minutes at 150 ° C top / bottom heat (convection 120 ° C) - without preheating! The next trays then only need 12-15 minutes.


The Secret of Dresden's famous Stollen
Dresdner Christstollen©, as it is officially known, has a tradition going back hundreds of years. Its recipe has been developed by master bakers over centuries and when you eat this festive cake filled with candied fruit, you are also getting a taste of the history and culture of Dresden and its people who care passionately about this special Christmas tradition. Watch this YouTube video to see how it is prepared.

The genuine Stollen from Dresden is based on twelve ingredients* which the city's bakers work into the cake's unique taste:

• 290 g butter / clarified butter
• 7 g salt
• 40 ml rum
• 1 g spices
• 70 g yeast
• 92 g sugar
• 90 g almonds
• 116 g candied lemon and orange peel
• 175 milk
• 100 g icing sugar for decoration
• 465 g raisins or sultanas
• 580 g flour

* The quantities refer to a classic four-pound Stollen

From frugal to very tasty

Dresden's Stollen was first mentioned in 1474 but it must have tasted quite different back then: As a fasting pastry, it only consisted of flour, yeast and water. Butter and milk were not allowed by the Catholic church. However, the people of Saxony have always liked their food and the ruler at the time asked the Pope to lift the butter ban so that from 1491 onwards, the city's bakers were allowed to add some softness to the Stollen.

The cake, also known locally as Striezel, is closely connected to Dresden's Christmas market, the Striezelmarkt, where at the beginning of the 16th century, Stollen was for the first time sold to visitors. The quality of today's Dresdner Christstollen© is strictly safeguarded by a special association, which makes sure that only the best ingredients are used, and the cake is even protected by a trademark and patent! Only Stollen produced by hand in and around Dresden by about 110 family-run bakeries and confectioneries are allowed to carry the "Dresdner Stollen©" label, and while the basic recipe is always the same, each baker still has their own touch based on expert know-how passed down from generation to generation.

Die ideal Stollen weight is four pounds as, in this size, the aromas develop best. After baking and before the first cut, the cake should be stored for two to four weeks in the original aroma-sealed cardboard or tin packaging at a room temperature of less than 15 degrees and a humidity of about 70 percent. The original Dresden Christstollen© has a shelf life of at least six weeks, and usually even longer, and many Dresden bakers send their Stollen all around the world. How about getting one for yourself, too? To order your Dresden Christstollen©, just click here.


1 L dry red wine
50 ml rum
2 juicy, untreated oranges, cut in slices
Juice of 2 juicy untreated oranges
7 cloves
2 sticks of cinnamon
1 star anise
50 g (or more) brown candy sugar

Put the red wine, spices, orange slices and freshly squeezed orange juice in a pot and heat it up on a low heat, but do not let it boil! Then add the rum and sugar and, again, heat up briefly.
Strain the spices and orange slices and serve the mulled wine immediately hot!
Alternatively, you can use apple juice as a base and leave out the rum = children's punch 😉.